COACHES ~ Diana Felker is Head Coach for TEVA 15 GOLD and Co-Director of TEVA. Click the image for more information on all the coaches.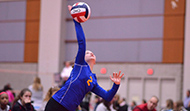 RESOURCES ~ Recruiting information, including general information, FAQ's, helpful links, forms and NCAA Rules by Division
Welcome to TEVA ~ Total Evolution Volleyball Academy
Upcoming Events
Club Champs!
All TEVA teams will be in playing in the KRVA Club Champs tournament April 30-May1 at the...
Read More
TEVA 15 Gold in action this sunday
TEVA 15 Gold will be playing their last single day tournament this Sunday at Millersville...
Read More
TEVA News
Club Champs Wrap Up
This past weekend all TEVA teams competed in the KRVA Club Champs. We had a great over all...
Read More
Irish Rumble Wrap Up
TEVA had a great weekend at the Irish Rumble out in Lancaster. We sent all 6 teams to comp...
Read More
Here's What The Parents Have to Say About TEVA
Our whole family had a wonderful experience at TEVA! Our daughter received quality instruction from highly qualified coaches. The limited number of girls on the team allowed for maximum playing time for each girl. Through TEVA, our daughter was recruited to play in college.–Phyllis Rohn, Berwyn, PA

TEVA was a wonderful volleyball club experience for our daughter and our family. The coaches are exceptionally nice and approachable. The coaches are very knowledgeable about teaching the techniques and skills necessary to play volleyball. In addition the coaches ensure that everyone gets playing time. After having my daughter play with various clubs this was by far the best experience we ever had.–Thomas McIntyre Upper Darby,PA

My daughter has had a great time with TEVA the last 2 years.The smaller team size has given her lots of playing time and the coaching has built her skills and increased her confidence. Above all, she has had a great time making friends and growing her love of volleyball.–Amy Berwyn,PA